Sailing at Arnside
You will find Arnside, a great place to sail. We are a small friendly club. With sailing courses for adults and children, club boats and low membership fees, there has never been a better time to start sailing at Arnside. Sailing is a superb way of enjoying Arnside's outstanding natural environment and making new friends.
Our Estuary
Arnside is located on the Kent Estuary at the top of Morecambe Bay in an area of outstanding natural beauty with views to the Lakeland Fells. The Estuary faces south west and offers you a large sailing area. At high tide it is possible to sail out into the Bay towards Holme Island and Grange-over-Sands.
There is a tidal window of 2 hours or more at high tide where it is possible to sail. Winds tend to be more constant than on a lake. On summer afternoons, a light sea breeze can make for pleasant sailing conditions. Tide against wind can result in exciting sailing. The Estuary provides you with a chance to sail in the sea with the reassurance of land on either side.
Sailing Programme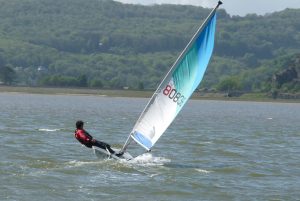 You can download our sailing programme for the year below
Arnside Sailing Programme 2019.
On days when sailing is programmed, safety boat cover should be provided, though this is guaranteed. On cadet days, safety boat cover will prioritise children's boats.
Dinghy Racing
Subject to demand we run occasional dinghy races. These are generally pursuit races with the slowest boat setting off first with the fastest boats having to catch them. This can make for exciting finishes.
Dinghy Cruising
Though there is only a tidal window of just over two hours, Arnside is a good place for dinghy cruising. Depending on conditions, your boat and your skill levels,  it is possible to sail out in the Bay to Holme Island, Grange-over-Sands and White Creek and still have time to get up to the Promenade and back before the tide goes out. In total a journey of more than 7 miles. There is not however time to get out and have a picnic on the other side. With an engine you can get further out into the Bay
Yachting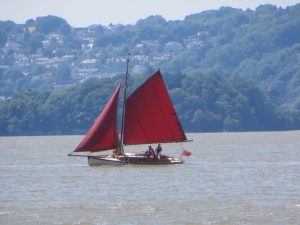 The Club owns Severn, a 23 foot long gaff rigged yacht built by Crossfields of  Arnside in 1912 for the Royal Mersey Yacht Club. See our Severn page for more details
Though other than Severn there is only the ocassional yacht on the estuary now, up till 2010 there were 12 or more. People use to motor out into the Bay and then sail back in. Arnside yachts made regular voyages to Peil Island off Barrow, Isle of Man and Southern Scotland.
The Club has the right to five moorings in the estuary between the Dinghy Park and Ashmeadow, though members have to lay their own moorings. It is also possible to lay moorings by Promenade.
We are keen to encourage yachts from elsewhere to sail up to Arnside, especially boats built by Crossfields of Arnside. Though the channel moves and it is not advisable to make the voyage unless Barrow tide height is over 9 metres, the journey is very scenic and is something that you need to say you have done. Bay Sea have made a series videos about sailing up to Arnside click to play.  Bay Sea School video of voyage to Arnside 
Other Watersports
Other watersports that place at Arnside include kite surfing, canoeing and paddle boarding, Arnside would be a good place for windsurfing or gig rowing.
Dinghy Park
Our dinghy park is located on the beach at Arnside about 400 yards beyond the end of the promenade just past Beachwood Lane. It is in a sheltered position overlooked by trees next to a nature reserve
Facilities in the dinghy park include.
Changing caravan
Eco loo.
Launching slipway.
Garage for safety boat.
Secure open air storage for boats.
Canoe rack.
Large dinghies can also be kept on the estuary on moorings
Please give priority to families and children using the caravan. Do not enter it if children or member of the opposite sex is using it.
Cadet Programme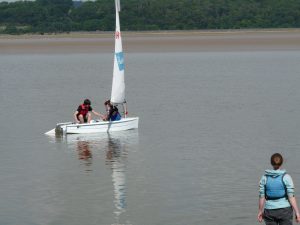 The club has a thriving cadet programme. See our Cadet page for more details
Learn to Sail
The club runs sailing courses at Killington near Sedbergh for adults, children and women. At Arnside, we run beginner/improver sessions for cadets  and midweek starter / improver sessions for adults. See our Learn to Sail page for more details.
Try Out Day - Push the Boat Out
The Club takes part in the RYA Push the Boat Out Event, where the Sailing Clubs throughout the country give people an opportunity in May to try out sailing. In 2019 our Try Out Day is on Saturday May 18th with boats leaving from the slipway by the Albion at high tide  between 1115 and 1315. There is a further session for children at low tide at dinghy park located on the beach past the coastguard station from 1500 - 1700
We are also happy to take people out sailing at Arnside at other times, contact asc.sailing.secretary@gmail.com
Club Boats
Thanks to grant funding, we have a fleet of club boats. Theyare available for use by members free of charge when not being used for training. Club boats include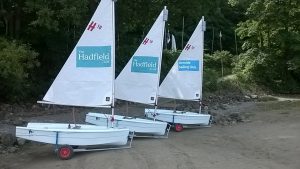 Laser - A  single handed dinghy suitable for adults and older teenagers. A Laser has three sail sizes depending on your weight.  The largest sail  is suitable for  peopleweighing more than 11.5 stones (72 kg), the medium sail for weights between 8.8 and 11.5 stones (55 kg to 72 kg)  and the smaller 4.7 sail for weights of 7.8 stones (50 kg) upwards. A Laser is an Olympic class for both men and women.
Wayfarer - A  stable family dinghy used extensively for training with room for up to 6 people.
Wanderer - One of the most stable dinghies on the market. It has room for 4 people. Being lighter than a Wayfarer it is easier to launch.
Hartley 10 - A small stable boat used by small children with two in the boat or single handed by older children.  It can also be sailed by teenagers and small to medium sized adults.  The boats are ten feet long.
Hartley 12.2 - A doubled handed boat for teenagers and  adults with asymmetric spinnakers. The boats are twelve long and can also be sailed single handed with one sail up.
Topaz 12 – a twelve foot long child's catamaran
Severn - A Rivers Class Yacht built by Crossfields of Arnside in 1912
Killington Improver Sessions
Arnside members are able to take part in Killington's Tuesday evening improver sessions which take place in Sedbergh School term time from 6pm to 8.30 pm (May, June, September, but not during May half term week) . (see their website for further details)
Arthur Ransome Connection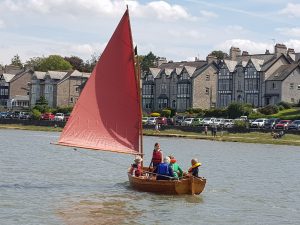 Arthur Ransome's Swallow and Coch-y-bonddhu were built in Arnside. Swallow was brought by a local teenager in 1935 and kept in the estuary. Coch-y-bonddhu was used to teach sailing at Earnseat School in the 1950s. The school was located on the front at Ashmeadow. Coch-y-bonddhu was the original for Scarab in Arthur Ransome's Picts and Martyrs and is now in the collection of Windermere Jetties Museum.
Sailing Tips
The estuary at Arnside is tidal. The tide comes in and goes out very quickly.
Generally depending on conditions you should be able to sail for around 2 hours at high tide. Winds tend to be stronger but more constant than in a lake unless the wind is blowing round the Knott. A land breeze can also change to a sea breeze.
The further out you go towards Grange the stronger the winds and bigger the waves. The wind in the estuary can be stronger than at the dinghy park which is sheltered. Waves can get bigger as the tide starts to go out especially if there is a westerly wind.
The depth of water at high tide varies by about 2 metres depending on whether it is a spring or neap tide. At spring tides, when the tide height is highest, the water comes in and goes out very quickly. Though the tide height is higher, you may get less sailing time than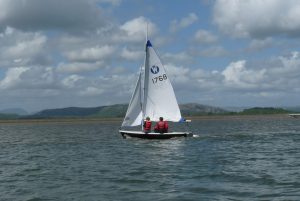 with a lower neap tide when currents are not as strong.
Always wear a buoyancy aid
Wait for the current to subside before going out.
Do not go out if the wind is too strong for you or conversely if it is too light.
When the tide is coming in you are better heading out away from the viaduct.
When the tide is going out you want to be above the dinghy park.
If there is an east wind do not go out too far as it will be harder to get back.
Keep away from fisherman on the shore. Their lines can be very long.
If caught by the tide head for the side. Check the depth of the water with a paddle or your centre board. You may able to walk back up the estuary with your boat in tow, though the depth of the water may vary suddenly from less than one foot to more than six foot. If on the Grange side you need to be well above the dinghy park or almost at the viaduct before attempting to sail back. Alternatively carry an anchor.