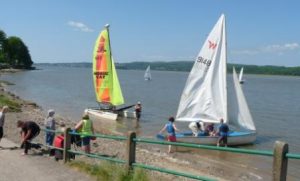 We will be offering you a chance to Try Out Sailing on Arnside's  scenic Kent estuary on Saturday 18th May
High Tide
11.15am to 1.15pm for Families, Children and Adults based at the slipway opposite the Albion (postcode LA5 0HA)
Low tide
3pm to 5pm for Children at the Dinghy Park
The Dinghy Park is located on the beach 10 minutes walk from the end of the Promenade
The sessions are free and there is no need to pre book, but you are welcome to let us know that you are coming
With sailing courses, a thriving children's programme, club boats available for use by members and family membership of only £65 a year there has never been a better time to start sailing at Arnside.
RYA Try Sailing in May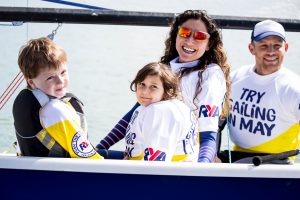 The Try Out Day is part of RYA Try Sailing in May where sailing club's throught the country are offering people a chance to try sailing. To find out more and watch a video click here
Evening Event – Tattie Bogle Ceilidh Band
From 8pm Tattie Bogle Ceilidh Band will an offering an evening of maritime singing and dancing in the Clubhouse on the Promenade. Tickets £5 on the door. All procedures will go towards the maintenance of the Club's yacht Severn built by Crossfields of Arnside in 1912.
(See below)