CADET PROGRAMME
Fun on the Water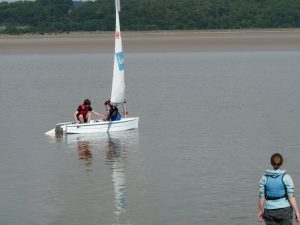 The club has a thriving cadet programme.
To be able to sail a boat is a great achievement for a child. Sailing helps to develop independence, confidence, resilience, teamwork and communciation skills.
Our cadet programme is made up of low and high sessions at Arnside and longer sailing courses at Killington near Sedbergh. Our cadets range in age from 7 to 15.
Sessions at Arnside
Low tide beginner sessions
We run low tide sessions at Arnside for beginners. At low tide the water is generally shallow enough to stand up in, making an ideal place to learn. It is surprising how quckly children pick up the basics.
High tide improver / advanced sessions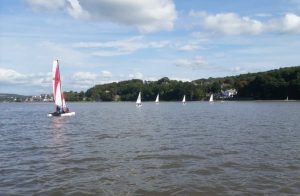 Improver / advanced sessions take part at high tide. The improver sessions give your child the chance to practise their skills in the estuary at Arnside. Advanced sessions include catamarans, spinnakers, racing and sailing further out into the Bay towards Holme Island and Grange
Price 2019 £8.50 per session after an initial free session (Free to children of club members)
Further Details and Dates Cadet Programme Details
Application Form Cadet Programme Application Form
We encourage parents to help with the sessions for example crewing the safety boat or start sailing themselves
Sailing Courses at Killington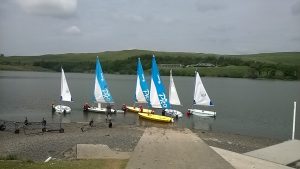 We offer beginner (RYA Stage 1 & 2) and improver (RYA Stage 3 & 4) cadet courses at Killington at May Half Term and during the summer holidays
Price 2019 Four day course £90 (Children of club members £80)
Further Details Killington cadet course details
Application Form Killington cadet course application form
We use Killington for sailing courses as we can offer a longer day's sailing there than at Arnside which is tidal. The Club is located just over half a hour's drive from Arnside on the other side of the lake from the motorway service station. It has full changing facilities, showers, small self catering kitchen and meeting room / eating area
Arnside cadets are also allowed to take part in Killington's Tuesday Evening Improver sessions which run from 6pm to 8.30pm during Sedbergh School term times (May, June and September, but not during May Half Term).
Cadet boats
Our cadet fleet at Arnside includes
Hartley 10 - A small stable boat with a single sail used by small children with two in the boat or single handed by older children.
Hartley 12.2 - A doubled handed boat for teenagers and  adults with main sail, jib and asymmetric spinnakers.
Topaz 12 – a twelve foot long child's catamaran
At Killington we use Picos for the beginners course and a mixture of more advanced boats for the improvers course
Safeguarding Policy
The club has a child protection, photography and code of conduct policy, which can be downloaded here.
ASC - Child Photography Policy
ASC - Safeguarding Policy and Procedures
Handout for Volunteers and Instructors
All our instructors and volunteers are DBS checked
The club's welfare officer is Niall Johnson who can be contacted on nialljohnson@btopenworld.com